Make Your Guests Feel Welcome with Luggage Claim Tags
Traveling can be hectic, especially if you're flying. You have to get to the airport early, go through security, and hope the airline or hotel doesn't lose your baggage along the way. Luckily, the chances of having your bags misplaced is slim thanks to luggage tags. They provide the airlines or your hotel with vital information to help reunite you with your lost suitcases or items you travel with.
What are Luggage Tags?
Luggage tags are a form of identification for your suitcases. Whether your travel by boat, train, or plane, stay at a hotel, motel or store your bag at a luggage storage center; the luggage claim tags help ensure the right pieces of luggage go the the right person. Luggage Tags are used for 3 major reasons. 1) Help passengers identify and claim their baggage. 2) Prove person wasn't stealing someone else's luggage. 3) Track missing baggage.
Who Invented Luggage Tags?
Luggage tags "tickets" were patented by John Michael Lyons in 1882 for railroad companies. They were labeled with the name of the station that issued the ticket, the passenger's final destination, and a number that matched the owner's personal train ticket. The tags were made out of paper and attached them with a piece of string. The Luggage tags were used as a receipt to prove you paid to be on the train and that your bags actually belonged to you.
Why Should You Use Luggage Tags?
Luggage tags helps maintain order in any hotel, motel, convention center or location that has to process intake of guests and belongings. Luggage tags help make it easy to recognize luggage and process them so they can get delivered to the correct location. Since all tags are numbered, each tag and bag can only be claimed if the clients claim ticket matches the number on the tag attached to the bag.
AMS Printing Has The Perfect Luggage Tag For Every Environment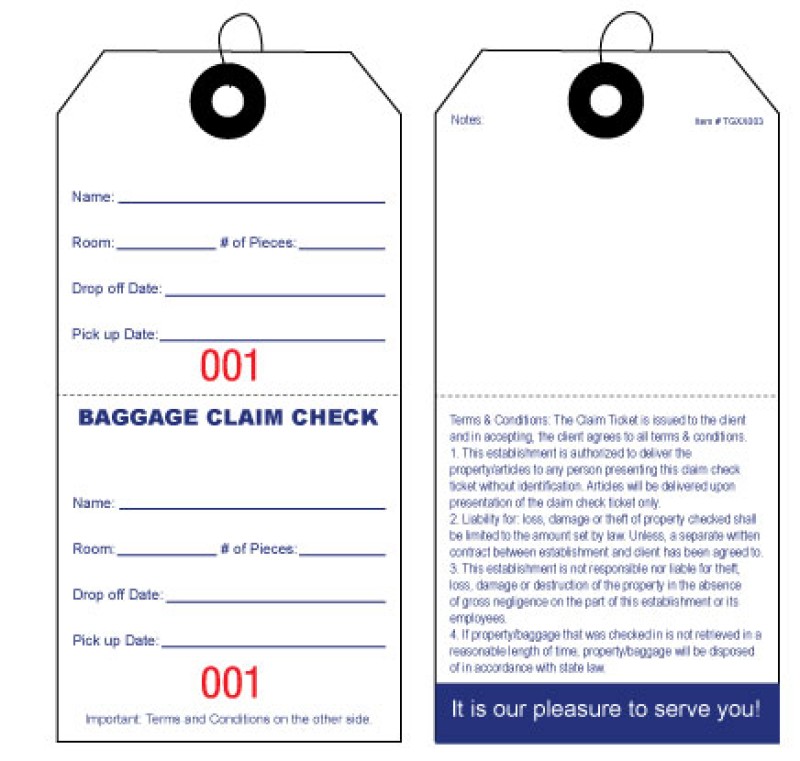 As the leader in the field of Luggage tags AMS Printing has different Luggage Tags for your workplace. Our Deluxe Luggage Tag (Item # TGXX003) comes with string attached to the tag, printed in blue ink with bright red numbering, it has a perf. line in the middle of the tag. Tags simply tear away in the middle of tag to give claim ticket to client. Making retrieval of the bags simple and easy. Item TGXX003 luggage tags come in English. If you require a Spanish and English bilingual tag, AMS Printing offers Item # TGXX005.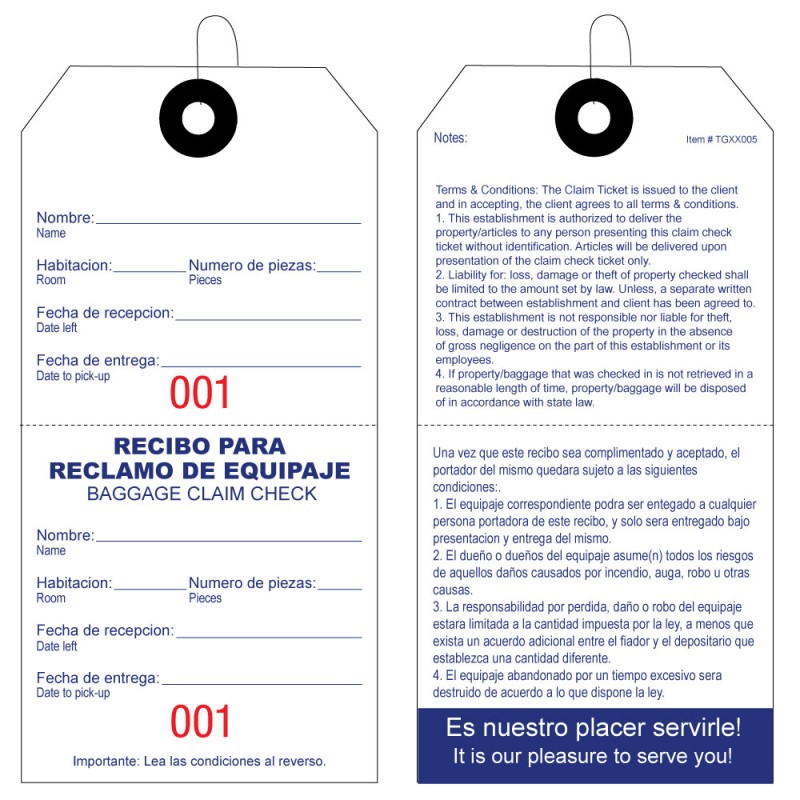 Luggage Tags For Clients With Multiple Bags or Items
Another popular Luggage tag AMS Printing offers is the Superior Luggage Tag Item # TGXX200 in Blue and TGXX201 in Yellow. These tags come with multiple labels that have corresponding numbers that appear on tag. With these tags a client can have multiple pieces of luggage and you can apply the labels to the additional pieces of luggage. These tags are extremely useful in handling lots of pieces of luggage. The main tag comes with elastic string for easy attachment to any suitcase or bag. The labels with corresponding numbers to main tag can be applied directly to items, or can be wrapped around handle of luggage. These tags are called Superior Luggage Tags for the ability to control the busiest of hotels or baggage control centers.