Experts in the Field.
Today, we'll hear from AMS Printing's experts about designing or selecting the perfect hospitality tags.
A self proclaimed "tag nerd" our experts have spent more than 30 years designing, producing and preparing tags and labels for printing. Our team at AMS Printing has seen it all - the good, the bad, and the downright ugly. One of the most amazing things we have seen is printing detailed handling instructions on a tag in one-point type on a baggage claim check tag. One-point is a font size that can not be read, it is just so small in size (we don't recommend this).
When in Doubt Call Us!
We are here to help. Before you start and have a question. Call us so we can guide you to put you on the right path. Someone is always available to talk to you, and a short phone conversation can make all the difference, and save you time!
Outline Those Fonts!
There are hundreds of thousands of fonts, also called typefaces, out there. And while AMS Printing has thousands of fonts in our archives there's a chance a font may not exist in our system. Trying to find a font, or trying to find an analogous font, or manipulating a font to make a copy change will increase turnaround time on your tag project. The simple solution: it's called "outlining" fonts, and it's a feature in most graphic design software. Basically, outlining a font coverts it from a mathematical construction to a scalable series of lines and curves. When fonts are outlined, the font file associated with its respective font (.ttf, .otf, ets.) is not needed for type to display properly.
Size Matters
If a font is a "serif" font, you'll notice little "flourishes" on it. If it's a "sans-serif" font, it doesn't have those embellishments. Most block-type fonts are san-serif fonts, and VASTLY superior for readability, especially in small print. AMS Printing recommends using sans-serif fonts whenever possible for printing jobs especially for any small print type that has a lot of type. Hospitality tags with important handling instructions would be such a case where sans-serif fonts should be used.
Tiny Serif Type Does Not Reverse Out Well
AMS Printing says if you decide to use a serif font and you reverse it extremely small (i.e., "reverse" the type to make it white or light on a dark background), your going to lose detail. If you're going to do it, I wouldn't go any smaller than a six-point font for best results.
Managing 1,2,3,4.... 11 Bags on 1 Tag
AMS Printing has the largest selection of in stock ready to ship out immediately baggage claim check tags. Some of our bag handling tags are perfect for handling 1 bag or suitcase at a time. Like our very popular Deluxe Baggage Tag: Item # TGXX003. Or you can select another tag from our inventory: our Superior Yellow Colored Luggage Claim Check Tag : Item # TGXX201 which has 5 labels that have corresponding numbered labels that match the claim check tag that allow you to manage up to 6 pieces of luggage with 1 tag. Don't forget : Item #TGXX200 which is a light blue colored tag with the same features of handling 6 pieces of luggage on 1 tag as TGXX201 . Furthermore, for locations that handle a lot of luggage, we have the Ultimate Bag Claim Check Tag, Item # TGXX002 that can manage 11 bags on 1 tag. Your locations use will determine the right tag for you to purchase. Feel free to consult AMS Printing for the right tag for your business location.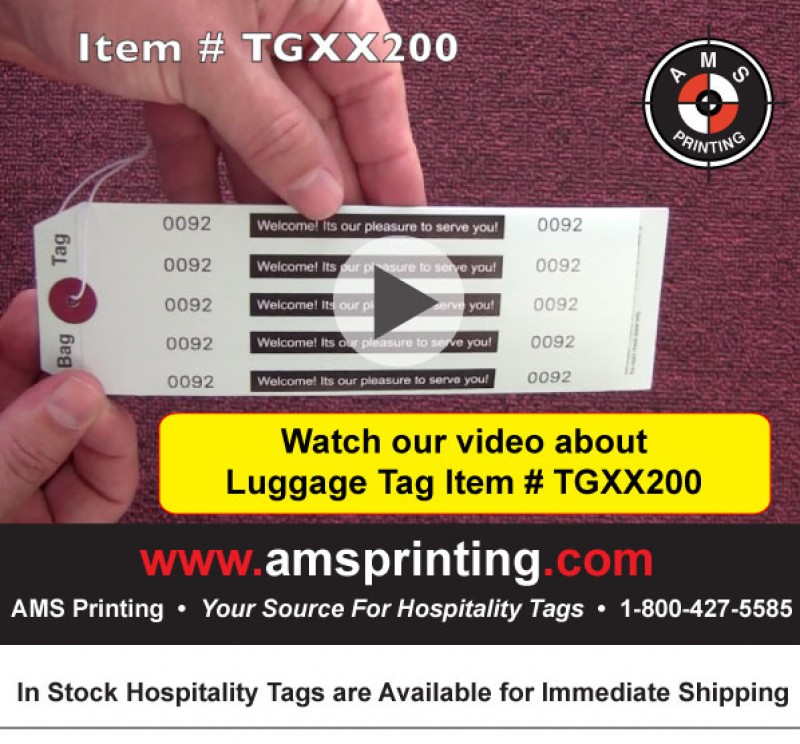 Color Makes A Difference
As for how to "spec" the color you want to use on your printing project? At, AMS Printing we use the Pantone Color Matching (PMS) system to mix and match colors. Give AMS Printing the PMS color and we will match your color selection perfectly. For your hospitality tags, AMS Printing suggests bright colors to easily spot your tag from a distance. For example AMS Printing uses bright white tag stock for its bag claim check tag TGXX001 and prints the text with a rich blue ink and consecutively numbers the tag in a bright red ink allowing the numbering to be easily seen, creating the perfect luggage claim check tag. Other claim check tags are printed in colors like yellow ( TGXX201) and light blue (TGXX200) to help them stand out and be easily recognized by staff.
Tag We Are It.
If you want to select from our large inventory of pre-made in stock tags or customize your own tag. AMS Printing is the source for your tag needs. Call us today to discuss your tag needs and let us help you select the perfect tag for you.
Have Questions? Not sure what you want or what you are looking for. Give us a call. Our very first job is to help you succeed getting the right tag for your needs. Call 1-800-427-5585, visit us online at www.amsprinting.com or email us at ams@amsprinting.com