Direct mail is a critical part of any marketing effort. Below are some of the reason you need to add this powerful tool to your marketing plan.
Direct mail doesn't require opt-in.
You don't have to get recipient's permission to send direct mail. Unlike email and text messaging, people don't have to opt in. This means that, even if a customer does not subscribe or unsubscribes from your email list you can still reach them with direct mail. (This is a great reason to make sure you always get physical addresses from those on your email lists!)
Direct mail doesn't get caught in the spam filter.
Direct mail lands right on the desk of the person it is addressed to. It makes an impression and says this company is for real! Postcards are a easy and fast way to introduce your company to your services or products.
Direct Mail remains effective long after it hits the desk.
Think of it as the equivalent to consumers taping things to their refrigerator. "We've had people tell us that they had one of our mailings sitting on their desks for months," notes a AMS Printing customer. "Although they didn't act immediately, we remained top of mind until they were ready to act. You don't get that king of staying power or attention with email."
It is still effective even when the target recipient has moved on from the company.
If you send an email to someone who's no longer there, it bounces. If you send a postcard, the new person in that job sees it and you've just introduced yourself as a vendor.
Direct mail doesn't have the competition.
Email is an effective tool, but we are overwhelmed by it. According to a recent study a person receives a minimum 100 email ads a week. As a result a huge percentage of email advertisement is never read. Businesses don't receive nearly as much marketing mails as they did a decade ago. Creating a huge opportunity for a direct mailer. Send the mail and they will come!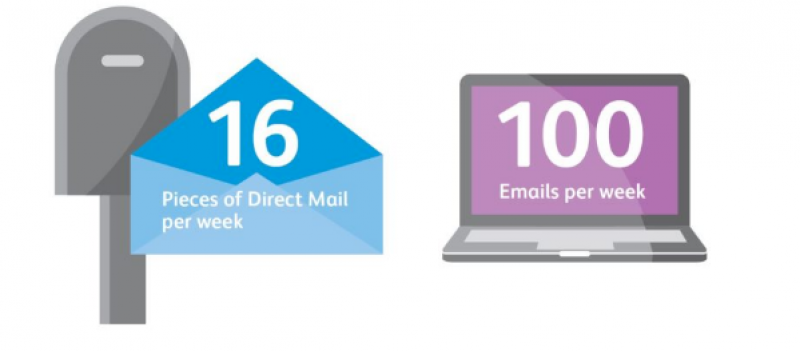 Direct mail can reach high-level decision makers that email can't
There are only so many things you can do to make email look more important, but beyond writing a compelling subject line, most of them look hokey. Direct mail offers options like kits, dimensional mail, promo codes, labels, and unique packaging options that by their nature say "OPEN ME UP" see what's inside! Metallic envelopes, custom die cutting, irregular size mail pieces are only the start of what you can create to make your mailing piece get the attention it deserves.
AMS Printing has all the tools to help create your next mailing piece.
AMS Printing can handle all steps of production to create your next marketing masterpiece. From Design to mailing list creation, printing, die-cutting, embossing, foil stamping, and mail processing we make it easy to advertise using direct mail. And with our know how, we can save you money on postage by using all discount available through bulk mailing services. Contact AMS Printing today for a Free Printing and Direct Mail Service estimate.